ISMT Exhibits at Tube and Wire 2010, Dusseldorf, Germany
Date : April 17, 2010
ISMT Exhibits in Tube 2010 International Tube Fair at Dusseldorf, Germany.

ISMT kicked off its exhibition and trade show marketing campaign for the new financial year with its participation in the largest Tube show in the world Tube 2010, held at Dusseldorf, Germany.Spread over a period of five days from 12th to 16th April 2010, the show had 2,400 exhibitors, across 11 halls of the Düsseldorf Exhibition Centre. Official figures show around 69,200 trade visitors from over 100 countries attended the Fair(for both Wire & Tube), over the five day period.

Positioned at one of the biggest halls in the exhibition centre(Hall3), the ISMT booth was manned by Marketing Heads Natrajan Kalyan and Sudhir Mallya along with Richard Coles (UK) and Eric Lennermark(Sweden) from ISMT Europe. The team was also accompanied by Kishore Bharambhe (MD-Structo,Sweden) and Winfried Schumacher(Structo,Germany) and RitwikBorthakur(B&C ISMT).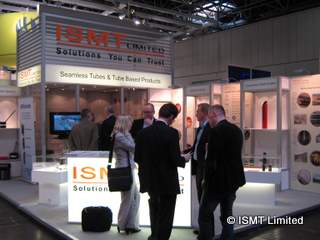 ISMT showcased a range of tubes and tube based products for a variety of industry applications. Visitors from various countries and different industries like Power-General, Automotive, OCTG, Hydraulics, Mining and Drilling, Construction, etc, met ISMT representatives at the stall to have some very interesting interactions. The event was avenue for meeting customers, suppliers, traders, prospects and other service providers, all under one roof.

The response to ISMT's participation in this show was tremendous. Looking at the overwhelming response, Mr.Kalyan from ISMT commented that ISMT should look at having a bigger boot and incorporate more meetings pace in the next Tube Fair at Dusseldorf.