ISMT Exhibits at Power-Gen Europe 2010, Amsterdam, Netherland
Date : June 11, 2010
ISMT participated as an exhibitor in Power-Gen Europe 2010, held at Amsterdam, Netherland. The exhibition was an enthralling 3 day event from 8th to 10th of June 2010. ISMT displayed its products in a smartly designed 35 square meter stall positioned at a prominent location in the RAI Exhibition Centre.

ISMT Products specific to Powegen found prime exhibit space. Header Pipes, U-Bent Heat Exchanger Tubes, Multi-Riffled Tubes and Tubes made from Creep Resistant Alloy Steels like T11, T12, T23, T92 etc were the main attractions.

The participating team consisted of Shekhar Kanhere (VP) and Sumit Kulkarni (Executive) from the Powergen Tubes marketing team at the India HO, Chaitanya Shinde (AVP-TPG) from the ISMT Tube Plant A at Ahmednagar and Richard Coles (Area Manager Sales) from ISMT Europe. Ritwik Borthakur (Executive) from B&C also formed a part of the team.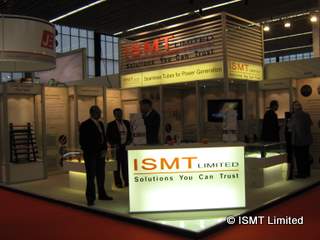 Over the course of the event the participants interacted with many prospective customers, business associates and representatives from institutions of interest. Power-Gen Europe is Europe?s premier power generation conference and exhibition - renowned not only for its size, but also for the quality of its visitors. The combined conference and exhibition provides a vibrant and influential forum for international industry executives to make valuable connections, enabling them to succeed in one of the worlds? most diverse and challenging power markets.

This is the second time it is participating in this event after ISMT?s debut last year in the same exhibition held at Cologne, Germany.