ISMT Exhibits at AIMEX 2011 – Australia
Date : September 12, 2011
Held once every four years and firmly established on the international mining industry calendar, Asia-Pacific's International Mining Exhibition 2011 (AIMEX) is the flagship event within the portfolio of established industrial trade fairs. AIMEX is where Australian and international suppliers of mining technology, equipment and services come together with mining industry buyers from throughout the Asia-Pacific region to explore mutually beneficial business opportunities, exchange technical information and network in an interactive business environment.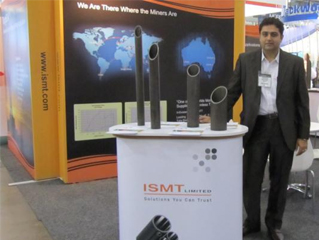 This year AIMEX was held in the Olympic Grounds, Sydney (Australia) from 6th to 9th of September 2011. ISMT participated in this enthralling event as an exhibitor. With a smartly designed exhibition stall of 36 square meter , ISMT displayed its high quality seamless tubes and tube based products for the Mining Industry for various applications like Wireline Drill Rods, Core Barrel Assembly, DTH Hammer casing and Pistons, Directional Drilling, Tunneling Bolts, Drill rods and steel, Thin Wall Tubes and Drill Casing etc.

At AIMEX, ISMT was represented by Mr. Sachin Joshi (Associate Vice Preseident Marketing) and Mr. Varun Khanna (Asst. Vice President Marketing). During the course of event, the participants interacted with many prospective customers, business associates and representatives from institutions of interest. ISMT had an overwhelming response from the exhibition.

Being an established pl ayer in the market, ISMT has over the years, earned the credential of being one of the most preferred suppliers of seamless tubes and steel for the mining industries, with highly satisfied customers around the world. ISMT's had delivered application oriented solution through its products for the mining industry in countries like Canada, Chile, Turkey, UK, South Africa, India and Australia.